| | |
| --- | --- |
| Saturday 29 August 2020 | |
Breaking Benjamin & Bush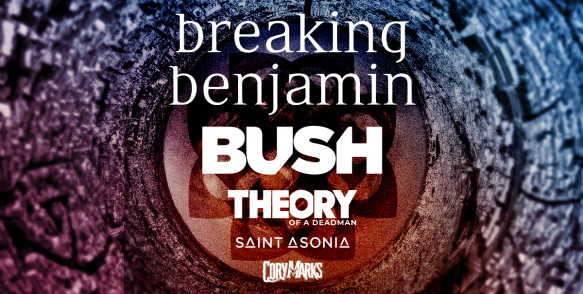 Hot on the heels of the recent wrap-up of their co-headlining North American arena tour with Korn, Breaking Benjamin is getting back on the road. This time, they're bringing Bush, Theory Of A Dead Man, Saint Asonia, and Cory Marks along and they're taking the outing to the Providence Medical Center Amphitheatre.
Multiplatinum rock band Breaking Benjamin are getting up for a busy year following the release of "Aurora," a collection of reimagined versions of their biggest and most fan-favourite which also includes a new song featuring Scooter Ward from Cold titled "Far Away." The new record features former Flyleaf front woman Lacey Sturms and Underoath front man Spencer Chamberlain as well. Frontman Ben Burnley issued a statement about their latest release saying, "We hope 'Aurora' brings you nostalgia from when you first felt something listening to our music, in a new way. Whether it was a tenebrous or a bright time in your life, we hope you look back at that point in your life and realize you made it through."
This is a killer line up you wouldn't want to sleep on so book your tickets now!